Control your entire home with a single device.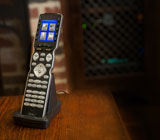 With Integration Unlimited's simple touch panels you can control everything from lighting, music, television, and even the thermostat with the touch of one simple remote. Integration Unlimited offers stylish and elegant solutions for the home that can easily blend into any décor.



Watch and Listen from anywhere in your home.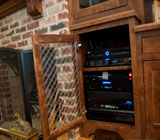 Your favorite shows, movies, and music do not have to be confined to one or two rooms in your home. Expand your listening and viewing options and enjoy your music and entertainment throughout your home, or even outdoors. Integration Unlimited offers countless custom solutions designed to suit your specific needs.



Designed to be beautifully functional.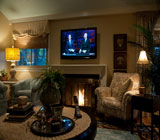 Integration Unlimited specializes in the design and integration of technology to coordinate with the overall aesthetics of your home. A home's design and overall "feel" is extremely important. Integration Unlimited offers solutions that will camouflage equipment and seamlessly integrate the technology into your daily life.



Experience your entertainment like never before.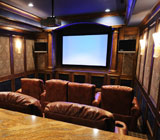 Bring your entertainment to life with your custom designed Home Theater. Integration Unlimited will make sure that once you step into the room, you will be completely immersed by high-definition video and sound. Whether you are inviting your friends over to watch the big game or simply enjoying a movie with the family, we will create a space for you that will leave a lasting impression.



Enhance your living experience with a green solution.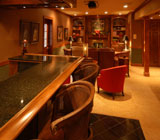 Imagine rolling out of bed in the morning, pushing a "Morning" button, and your pathway and bathroom lights are dimly lit and the lights in the kids rooms start to gradually brighten to get them up for the day. Lighting control enhances your living experience by allowing you, as the home owner, to adapt the lights in your home to your lifestyle. We work with you to design custom scenes for your home based on your schedule, entertaining, home life activities, or time of year. Integrating a lighting control solution will save you time, enhance your lifestyle, enrich the ambiance of your home, and it will also save you money on your electric bill. It is one of our most popular green solutions.



Simplified Communication.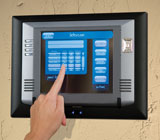 Integration Unlimited understands how important efficient communication is within a home. Integrating an appropriate phone or intercom systems saves you time and hassle. No need to shout from the top of your lungs that dinner is ready or wonder who is at the door when you're upstairs or in the basement working out. With a seamlessly integrated intercom system, communicating with the household is as simple as pressing a button.



Your home's information highway.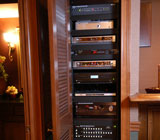 Integration Unlimited can set up a home network that will allow all computers and other IP devices to communicate within and outside the home. Pull up the movie you are watching online onto the big screen in the family room. Play your music library, located on your desktop, through the speakers out by the pool. Proper networking in a home gives you more control over your entertainment.

we provide solutions!

Home Automation
Home Theater Design & Installation
Media Room Design and Installation
Audio & Video Solutions
HDTV Installation
Data Network Installation
Phone & Intercom Systems
Lighting Control Systems
Networking
Audio and Video Content Distribution
Digital Signage
Presentation Systems
Board Room Automation

---
they, who took CONTROL!

"From the first meeting I had with Kurt to discuss my project, and now three years later, his continued dependability, recommendations, knowledge, structure, and organization has been invaluable. With over 20 years of experience working within the design/building industry, I believe Integration Unlimited is becoming undoubtedly THE leader in their community of the audio/video world."



Suzanne
---
news

Managing partner, Kurt Korfhage, is now a "Certified Digital Signage Expert". If you are searching for a digital signage solution for your business or just have questions about what digital signage is and how it can benefit your business, feel free to ask us.
---